Absol Figures
アブソルフィギュア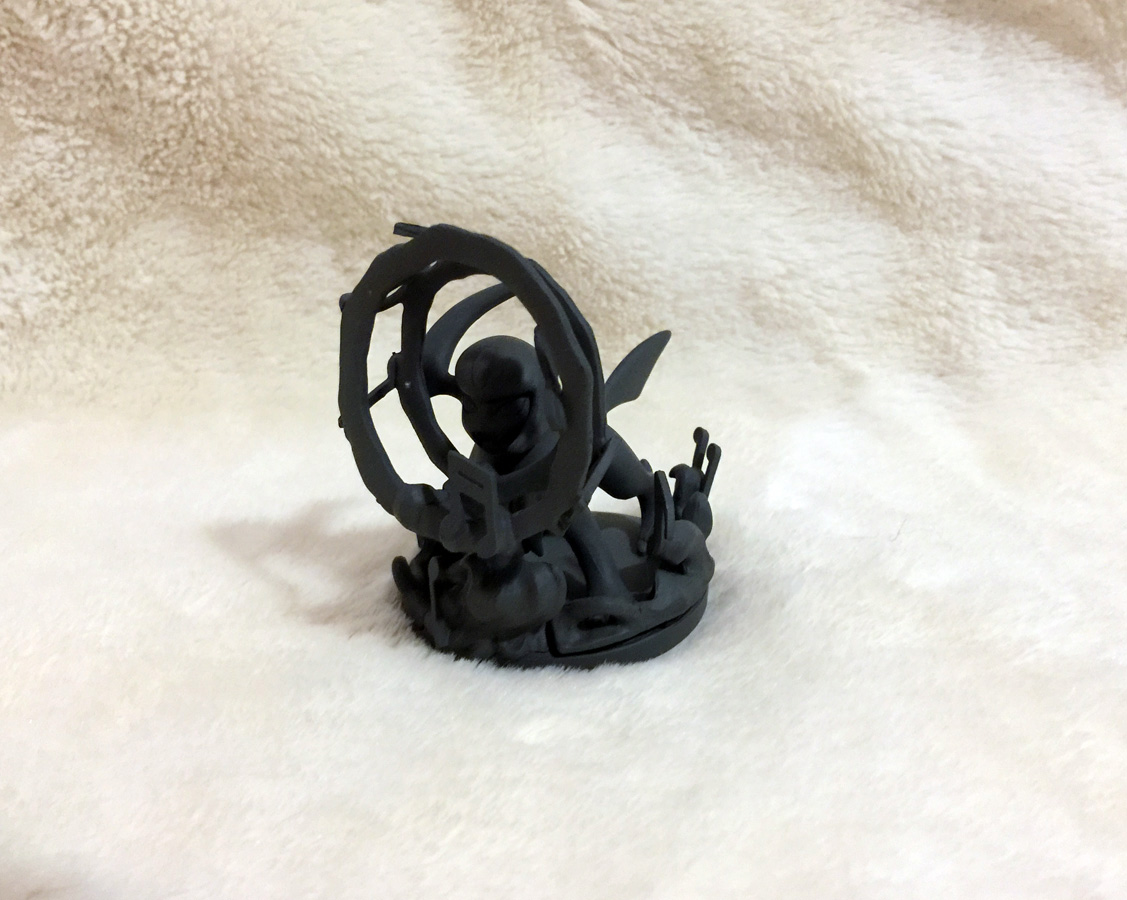 Pokémon Center Gallery Figure "Perish Song" Absol Prototype
Pokémon Center 2018

(Missing standard release version.)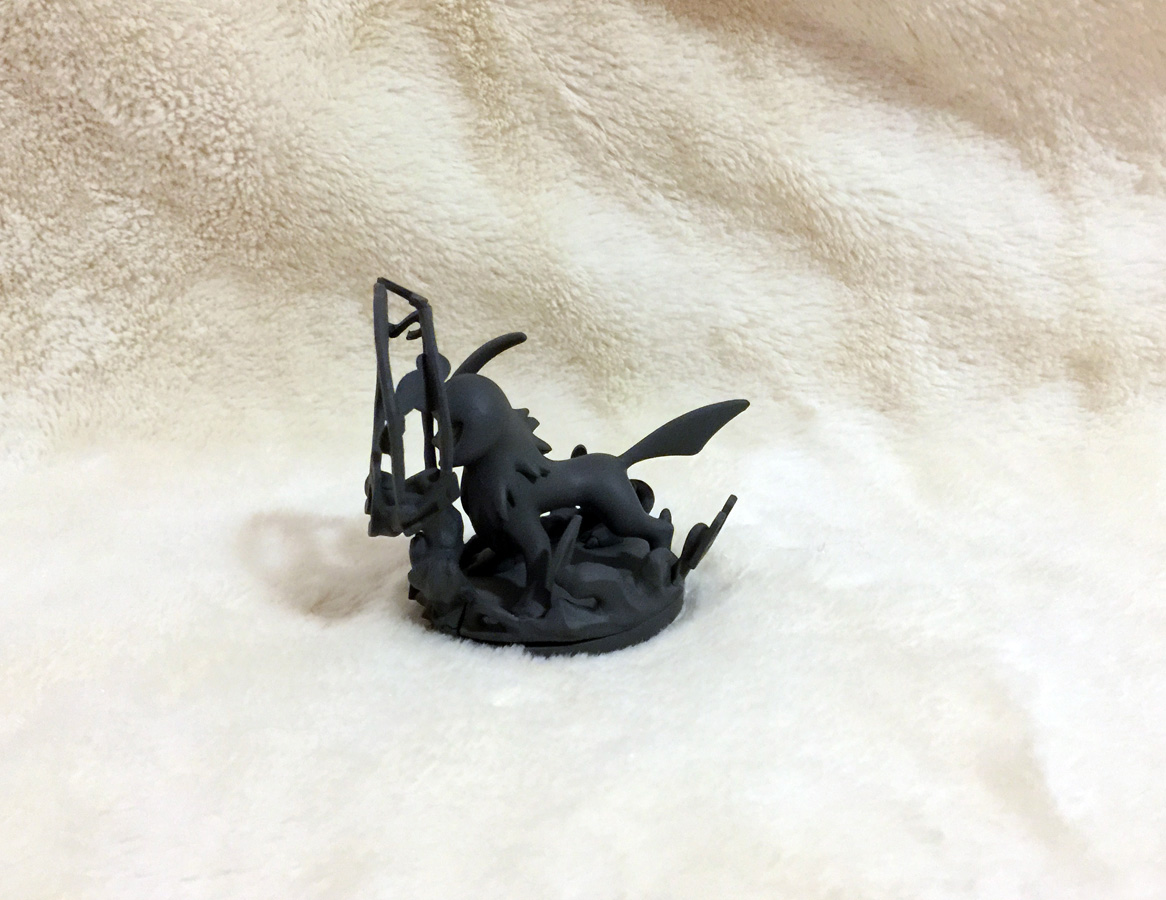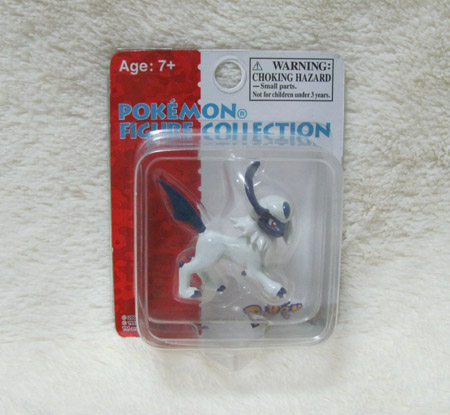 Pokémon Monster Collection Absol Figure
ポケモン モンスターコレクション アブソル フィギュア
Tomy 2003

This specific figure is an American release of the Tomy Monster Collection figures, bought from the old Pokémon Center New York website before it went under. The Japanese release is numbered MC-116 and comes in the same blister packing, only more Japanese-y obviously. Thanks to the little ridge on the bottom of the blister packaging these packages are surprisingly easy to stack and stand alone, too.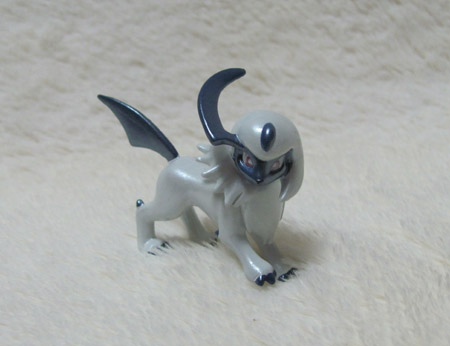 **Pokémon Movie 10th Anniversary** Monster Collection Set BOX
Metallic Absol Figure
**Pokémon Movie 10th Anniversary** モンスターコレクションセットBOX メタリック アブソル フィギュア
Takara Tomy 2007

Quickly becoming rare and sought after the box's release in 2007 for the 10th anniversary of Pokémon movies, this metallic version of the Absol MC was quite hard for me to find for a comparatively-recent item. However, it is well worth the search, having an absolutely gorgeous pearly sheen. The one downside however is that finish makes the figure slightly sticky to the touch.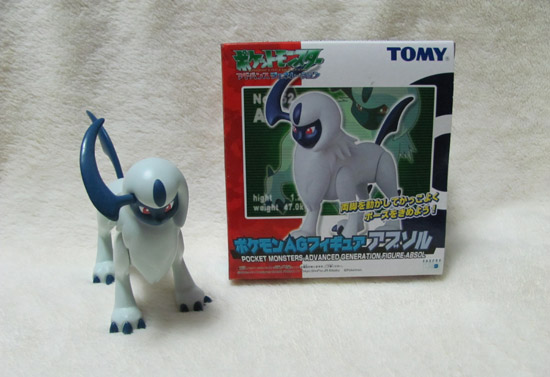 Pocket Monsters Advanced Generation Figure Absol
ポケットモンスター アドバンスジェナレーション フィギュア アブソル
Tomy ??

Much like the Deluxe Figure Collection of the first and second generations, AG had large posable figures made by Tomy. The difference however was them coming in boxes and having no hang tags, and having a completely different set name, only simply being called "Pokémon AG Figure".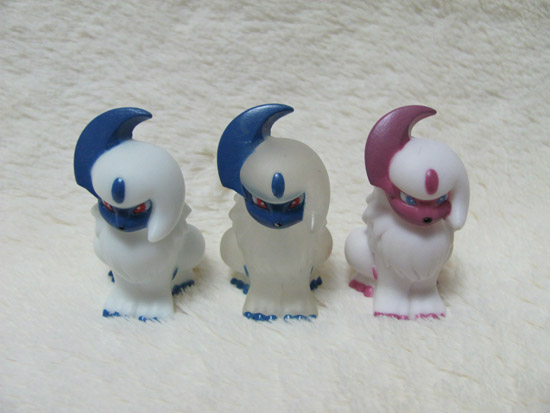 Pokémon Kids Advanced 3 Absol Normal, Clear, Shiny Versions
ポケモン キッズアドバンス3 アブソル ノーマル、クリア、色違いバージョン
Bandai 2003/2004

One of two Kids molds Absol got, this particular Kid was even very lucky enough to get an official shiny version, only available in limited numbers through a lottery campaign held by Bandai. The campaign was held in 2004. And while not quite as rare, the clear version can still be quite difficult to find.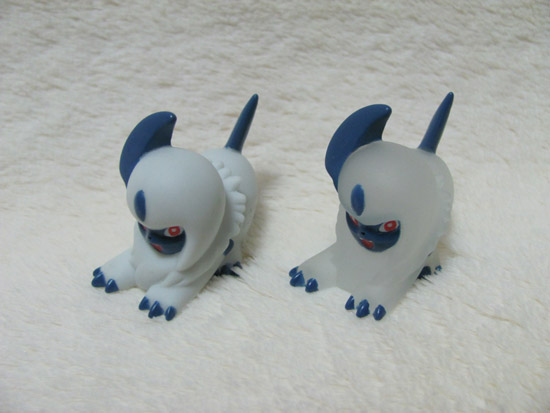 Attack Pokémon Kids 1 "Quick Attack" Absol Normal, Clear Versions
カメわざポケモンキッズ1 「でんこうせっか」 アブソル ノーマル、クリアバージョン
Bandai 2005

The second Absol Kid, it features a dynamic Quick Attack pose. Like the first Absol Kid, its clear version can be difficult to find.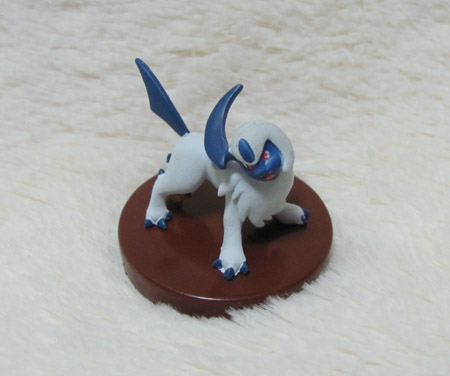 Zukan/Visual Pokédex RSE 01 1/40 Scale Absol
立体ポケモン図鑑 RSE01 1/40スケール アブソル
Yujin/Tomy 2003

A small figure, being at 1/40 scale, but a very unique and dynamic one. It actually originally came in the capsule bundled with 1/40 scale Poochyena and Mightyena figures, which I still have.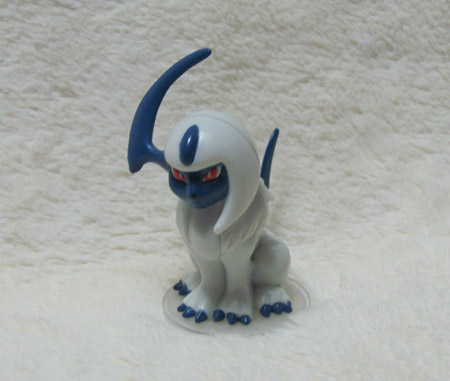 Pokémon Data Carrier Figure Absol
ポケモン データキャリアーフィギュア アブソル
Tomy 2002

I admit to not knowing a lot about the Data Carrier series, but this is one of my favorite Absol figures. It actually came with my movie UFO catcher Absol plush from the eBay seller I got it from as a freebie, and I didn't see another one up for sale for years.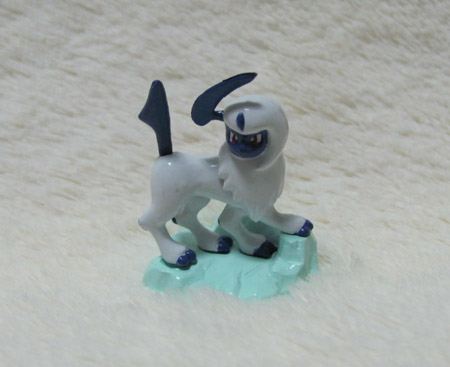 Pokémon BallChoco Series 1 Absol
ポケモン ボールチョコ第1弾 アブソル
Tomy 2003

A beautiful Absol figure that originally came blind-packaged in a chocolate Pokéball. (Sadly, I never got to eat it, I bought the figure as is.) It's removeable from the base as well, leaving behind molded footprints.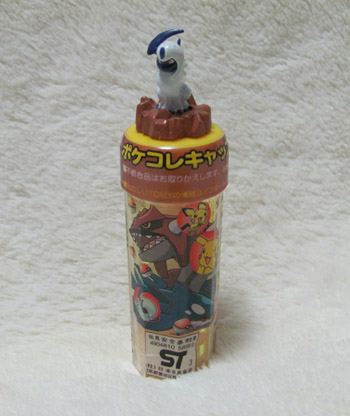 PokéColle Cap 5 Absol
ポケコレキャップ5 アブソル
Tomy 2002

The PokéColle Cap series, especially older and sought ones, are very very rare to come across, especially in original packaging. I was extremely lucky to get this mint and sealed Absol, bought from a friend who needed a new home for it and many other Absol items. One of my favorite Absol figures.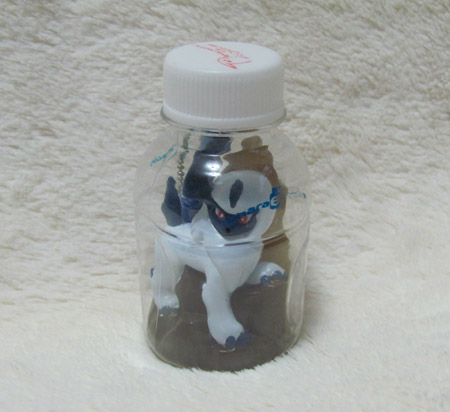 Pokémon Wishing Star of Seven Nights CharaBottlin 1 Absol
ポケモン 七夜の願い星 キャラボトリン1 アブソル
Tomy 2003?

This was a sadly short-lived series, but what figures it produced. This Absol in a bottle is absolutely gorgeous, and a must for an Absol collector if found. The figure itself is hollow and a soft, lightweight plastic, a lot like Pokémon Kids.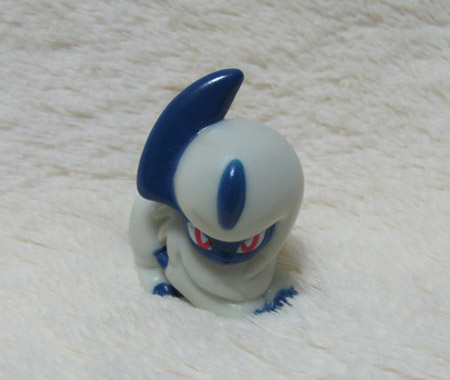 Bikkura Tamago Pocket Monsters 1 Absol
びっくらたまごポケットモンスター1 アブソル
Bandai ??

Coming in the very first set of a series that still runs today, this Absol is very adorable and quite difficult to find. Bikkura Tamago (which means "Surprise Egg") come in soap Pokéballs that dissolve in hot bath water. (I'm unsure if it was still the case back in the AG series sets or they simply just came bundled with bath salts.) The Pokémon Bath Kids Absol figure seen below also came as bath salts omake, only made by Tomy.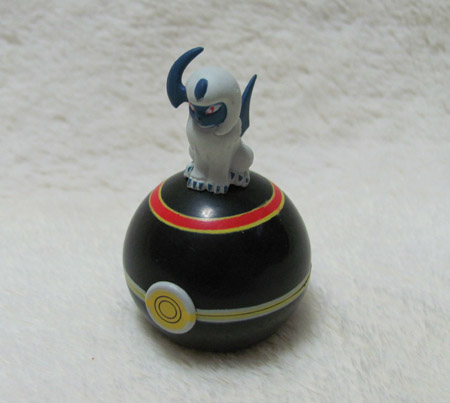 Pocket Monsters Advanced Generation New Roller Stamp Absol
ポケットモンスター アドバンスジェナレーション New ローラースタンプ アブソル
Kyodo 2003?

A very rare to find rolling stamp I found by chance, and used a shopping service to get through a random Japanese online store. Interestingly it seems to use the same mold as the Bell Collection keychain, which was also made by Kyodo.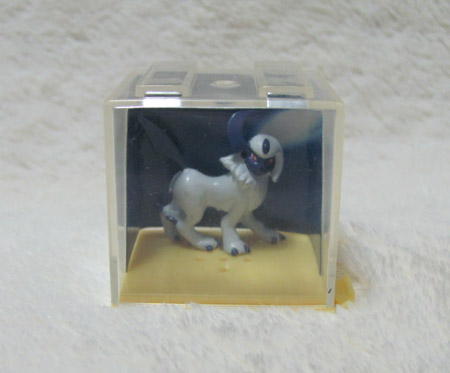 Pokémon Bath Kids: Hot Bath of the Milky Way Absol
ポケモン バスキッズ天の川の湯 アブソル
Tomy ??

Another rare Absol figure, this series was like Bikkura Tamago in terms of being bundled with bath salts. It is also similar to In-Case Collection in the premise of being figures in small interlocking display cases, only this series featured figures not attached to the bases, and the paper backgrounds were a lot more detailed.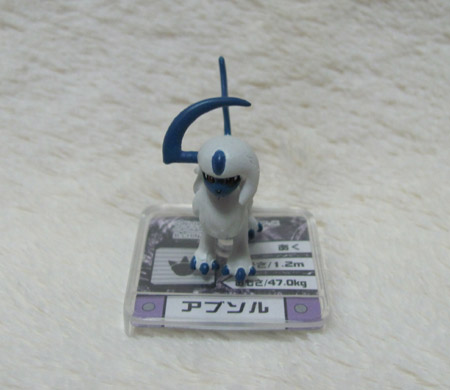 Pokémon Full Color Advance 02 Absol
ポケモン フルカラーアドバンス02 アブソル
Bandai Japan ??

Commonly referred to as "Pokédex figures" for their Pokédex entry bases, this series was descended from the continuous series of Bandai gashapon figures on bases that started as Full Color Stadium and currently runs to this day as Chou Get. Like every other figure in this series, Absol attaches to the base with a peg.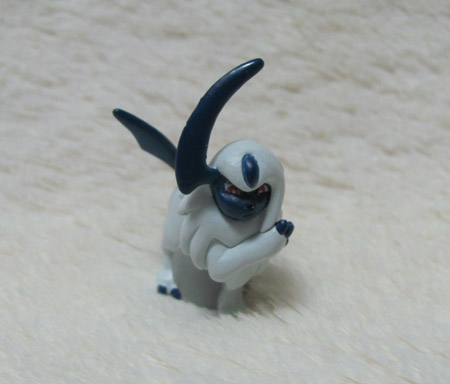 TM Collection 01 "TM12 Taunt" Absol
わざマシンコレクション01 「わざマシン12 ちょうはつ」 アブソル
Bandai Japan 2005?

The series that came after Full Color Advance in the continuous Bandai line, interestingly enough none of the figures had bases. However they came with stickers that detailed their signature attack (often TMs, hence the series name), but sadly my Absol didn't come with it.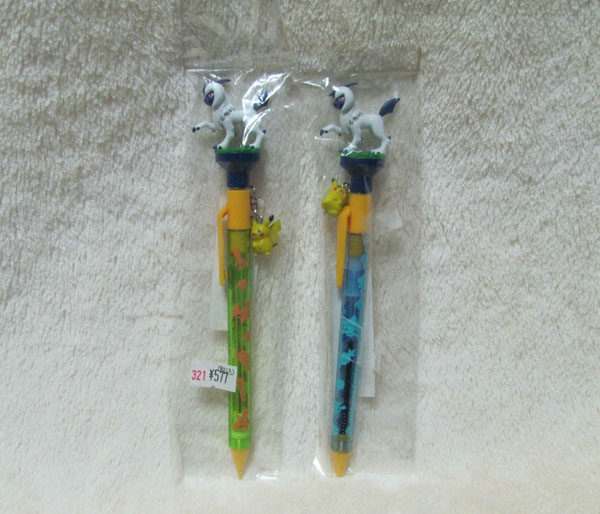 Pokémon Center Green Sharp Pen, Blue Ball Pen Absol
ポケモンセンター 緑色シャープペン、青色ボールペン アブソル
Pokémon Center 2003

Originally sold in the Pokémon Center, this pen came in at least two colors, and possibly shares a series of products with the Pokémon Strap Mascot seen below.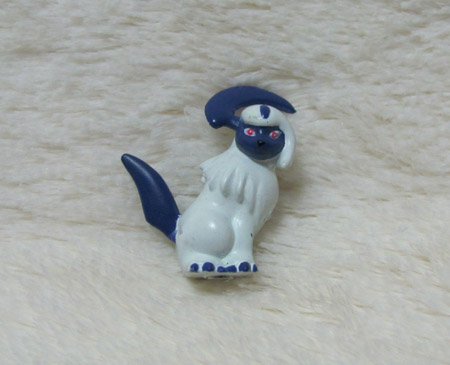 Pokémon Capsule Town Absol
ポケモン カプセルタウン アブソル
Tomy 2003

This Absol came in a gashapon set of a town, with each Pokémon coming with different parts of the town. Absol originally came with a truck (which mine didn't come with). The figure has a magnetic bottom, probably to attach to the truck.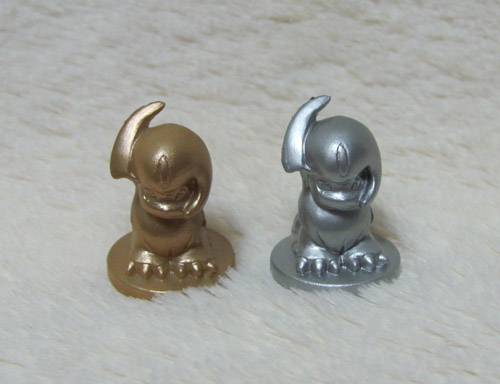 Puchipon Chara Series Pokémon Wishing Star of Seven Nights Absol Gold, Silver Versions
プチポンキャラシリーズ ポケモン 七夜の願い星 アブソル 金、銀バージョン
Banpresto 2003
(Missing normal full-color version.)

I admit to not knowing much about this set, aside from the image used in my wishlist photo of the full-color figure I'm missing having some sort of top.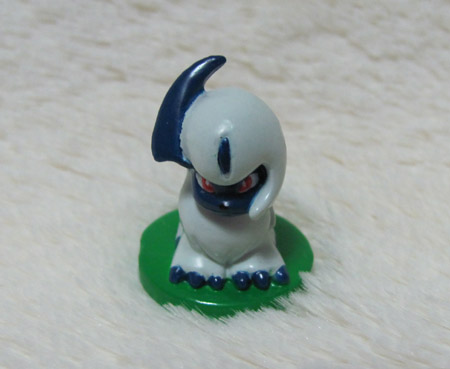 Pokémon Minicot Part 3 Absol
ポケモン ミニコットパート3 アブソル
Banpresto 2005

Having a very similar mold to the Puchipon Chara Series Absol, this Absol was once an amusement prize. Each set in this series of figures represented each generation up until the time; there were three sets in all.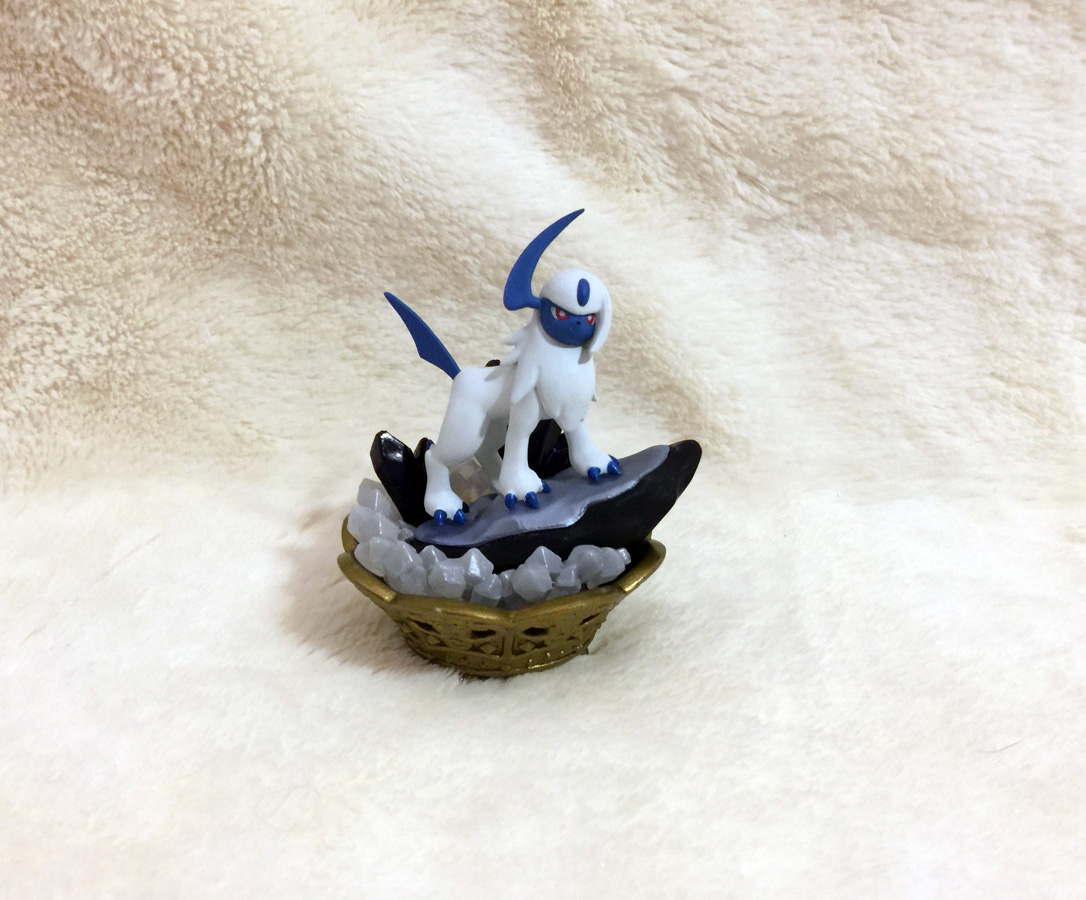 Pokémon Gemstone Collection Absol
ポケモンジェムストーンコレクション アブソル
Re-Ment 2021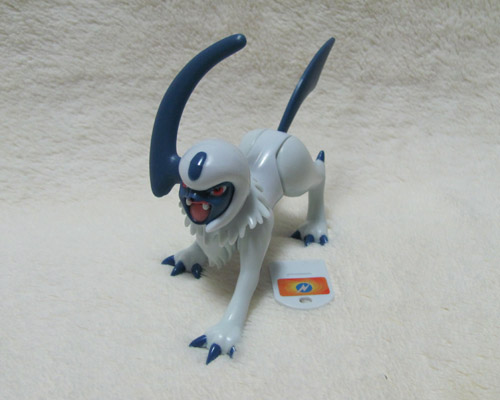 Pokémon Advanced Generation 10cm Double Action Figure Absol
Bandai Europe 2004

As the name suggests, this figure has two "actions". One action is to "pounce", while the other is to shoot a Razor Wind projectile from its crest blade.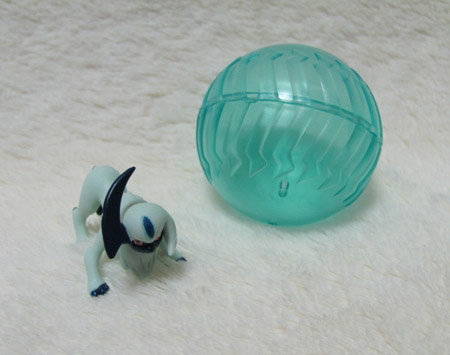 Pokémon Advanced Generation Mini Figure Razor Wind Absol
Hasbro 2004?

This figure was meant to be put inside the blue ball it came with and roll around, recreating its Razor Wind attack. It also came bundled with a tiny Mudkip figure.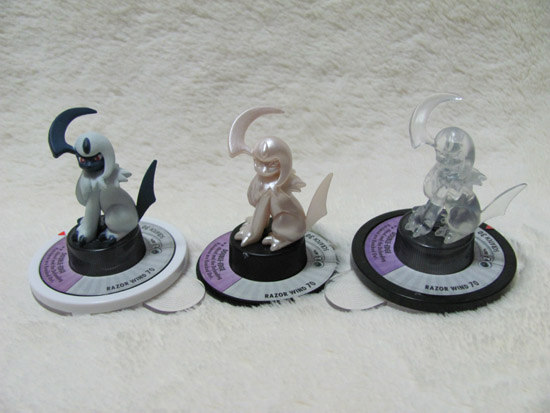 Pokémon Trading Figure: Next Quest Absol Normal, Crystal, Pearl Versions
Pokémon USA/Kaiyodo 2006

When the Trading Figure game first came out, it was originally only released in Europe and Australia, and remained exclusive for a long time because of delays due to packaging mishaps. During this release, there was an exclusive and very rare pearl version released for each Rare figure, including Absol. Later, when the figures were finally released elsewhere, a more common crystal version was released. Sadly the Trading Figure game was short-lived, the second set Groundbreakers being delayed and only partially released before the series was axed for good, while the unnamed third set was in production.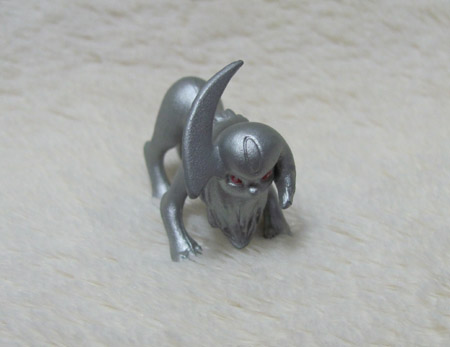 Pokémon 10th Anniversary Top Ten Fan-Voted Collector Pack #9 Absol Figure
Hasbro 2007?

For the 10th anniversary of Pokémon, Hasbro held a poll for the most popular Pokémon. The top ten were released in silver versions in a box set. Absol was #9.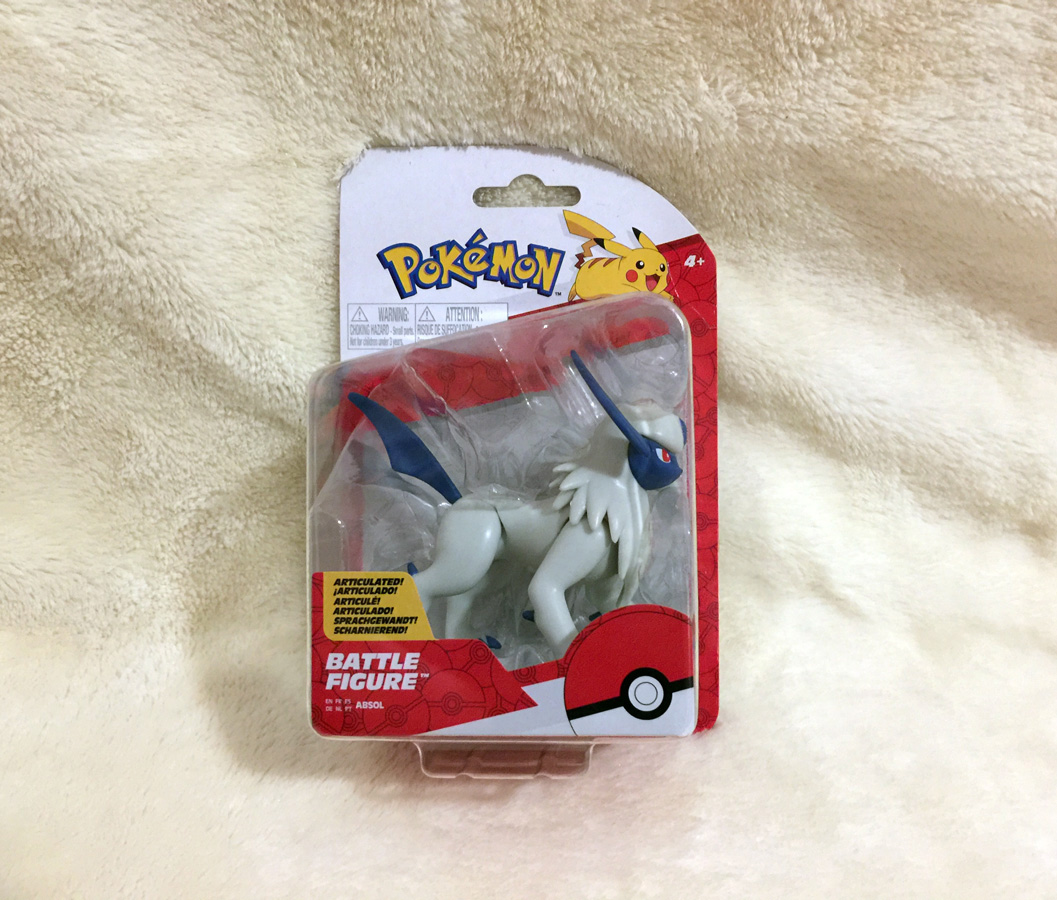 Pokémon Battle Figure Absol
Jazwares 2022





Absol Keychains/Straps
アブソルキーホルダー/ストラップ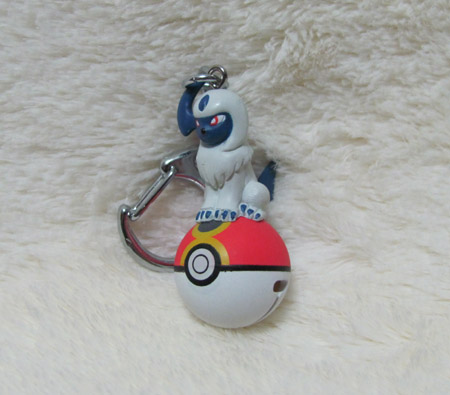 Pokémon AG PokéBell Collection 2 Absol
ポケモンAG ポケ鈴コレクションII アブソル
Kyodo 2003?

For years this rare keychain eluded me, until I was finally lucky enough to snag the entire set Absol came in. Unlike the older Bell Collection keychains which had metal Pokéballs, the AG series features both figure and ball cast in some sort of resin. Very high quality and recommended for any Absol collector if found.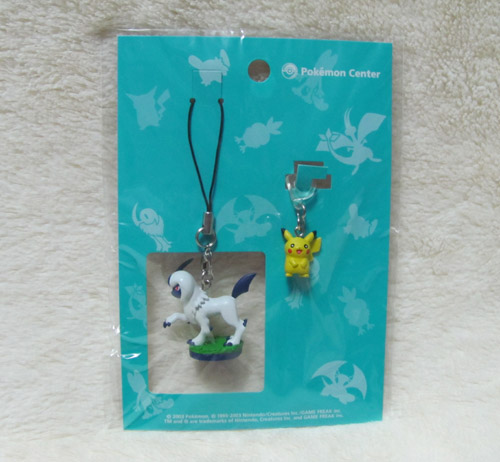 Pokémon Center Strap Mascot, Antenna Mascot Absol & Pikachu
ポケモンセンター ストラップマスコット、アンテナマスコット アブソル&ピカチュウ
Pokémon Center 2003

An item I had previously never seen before, I theorize that this, along with the Pokémon Center pen with figure of the same mold, were a part of an old Pokémon Center promotion for the sixth Pokémon movie. Since merchandise production dipped during the AG era due to the Ruby and Sapphire games being considered a low point of the franchise, like Johto merchandise a lot of merchandise and their information have become unknown. This is one of the more unknown items, but hopefully with time more information will be revealed.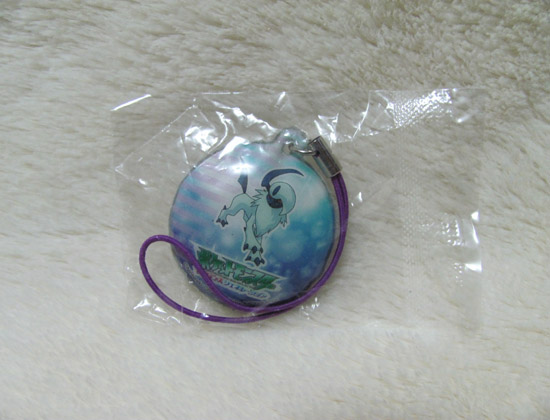 Pocket Monsters Advanced Generation Lens Cleaner 2 Absol
ポケモンセンター アドバンスジェナレーション レンズクリーナー2 アブソル
Kyodo 2003?

Like with most Kyodo products (especially from the Advanced Generation), this small strap and others in its set are very difficult to find. The back is a soft lens or screen cleaner.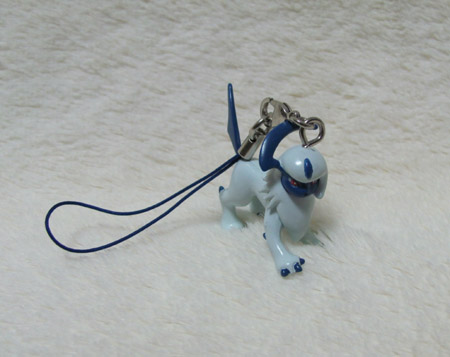 Visitor of the Space Fissure Pokémon Swing & Strap 2004 Absol
裂空の訪問者 ポケモンスイング&ストラップ2004 アブソル
Bandai Japan 2004

A nice charm/strap combo (hence the name) that was interestingly released in a gashapon set for the seventh Pokémon movie, Visitor of the Space Fissure: Deoxys. More or less the same mold as the Pokémon Swing 2 Absol.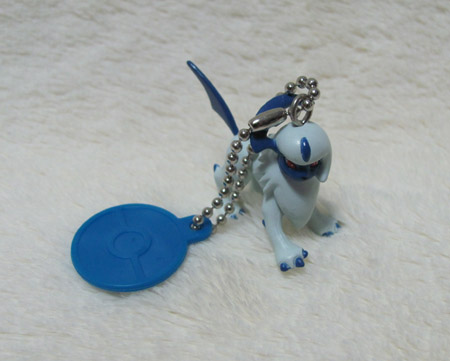 Wishing Star of Seven Nights Pokémon Swing 2 Absol
七夜の願い星 ポケモンスイング2 アブソル
Bandai Japan 2003

A gashapon keychain on a ball chain and with a name tag. This Absol came in a set commemorating the sixth Pokémon movie.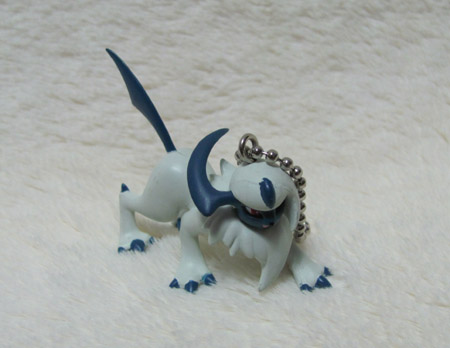 Absol Figure Keychain
Tomy 2004

Sadly, I don't know the specific set this keychain came in. It's entirely possible it's from a similar series as the New Pokémon Holder Entei keychain I have, which was also a mystery for the longest time. However, it is a beautiful one, and very distinctive and unique. It is my favorite of the general release Absol keychains.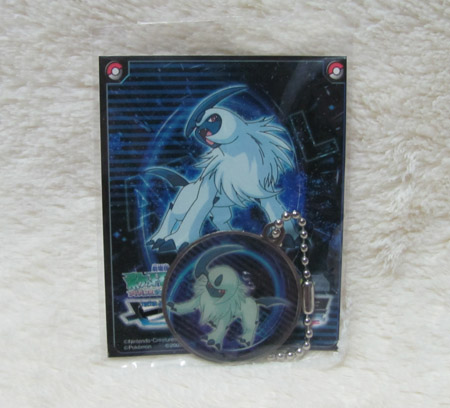 Wishing Star of Seven Nights Metal Mascot Absol
七夜の願い星 メタルマスコット アブソル
Subarudo 2003?

A beautiful candytoy metal keychain released for the sixth Pokémon movie by Tomy subsidary company Subarudo. This particular series still runs to this day.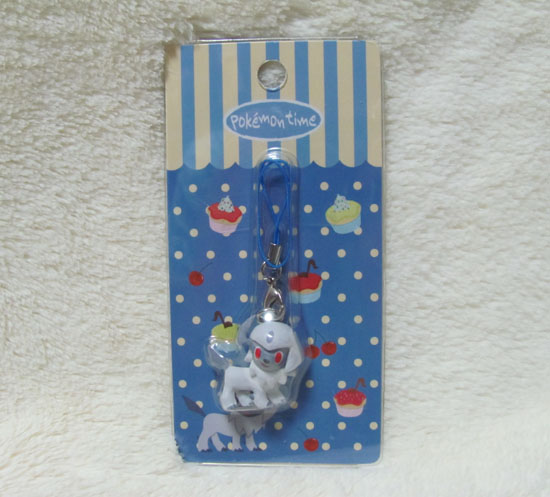 Pokémon Time Strap Absol
pokémon time ストラップ アブソル
Pokémon Center 2011

Pokémon Time is a very unique Pokémon Center promotion popular for its very unique art style. In fall 2011, the Pokémon Centers in Japan released the Pokémon Time series once again. This time, the set was themed around Hoenn Pokémon, including Absol. This strap, released alongside a Dr. Grip Mechanical Pencil and an A4 clearfile, marked the first new Absol merchandise since 2006. This is easily my favorite Absol strap, and easily the most adorable!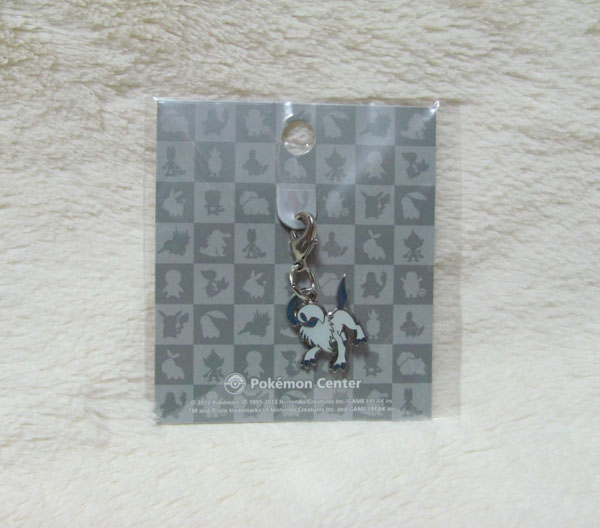 Pokémon Center National Pokédex Metal Charm 359 Absol
ポケモンセンター 全国ずかんメタルチャーム 359 アブソル
Pokémon Center 2012

Black and White seems to have broken all molds in Pokémon collecting, and this promotion of metal charms is no exception. Banpresto's My Pokémon Collection made the unprecidented move of aiming to release every Unova Pokémon in plush form, and the Pokémon Center seemed to turn that into a challenge and decided to release every single Pokémon up to Kyurem in metal charm form. Best of all, Absol never got a Pokémon Center metal charm before!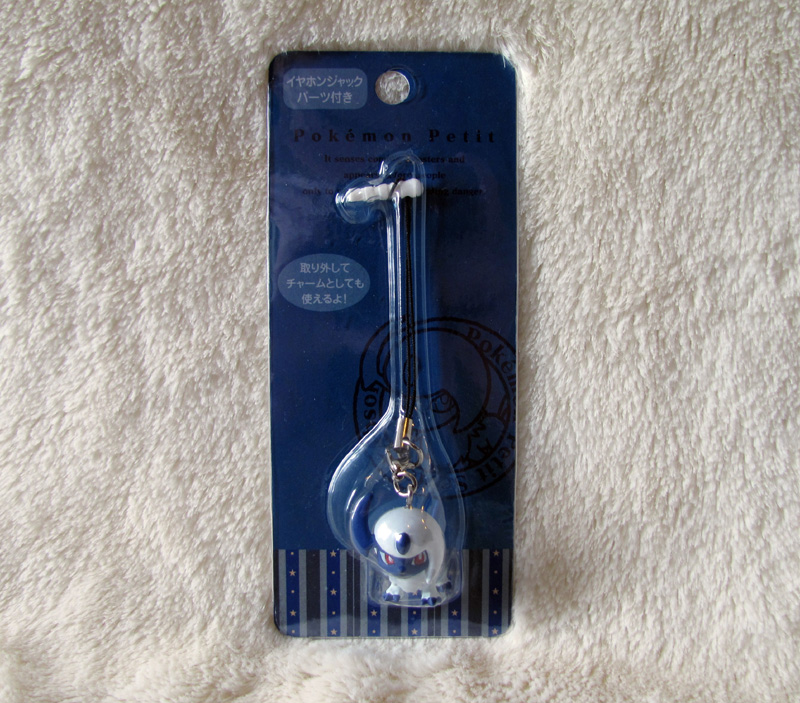 Pokémon Petit Figure Strap Absol
Pokémon Petit フィギュアストラップ アブソル
Pokémon Center 2015

First a plush mascot, Absol's now a figure strap in the Pokémon Center's Pokémon Petit series!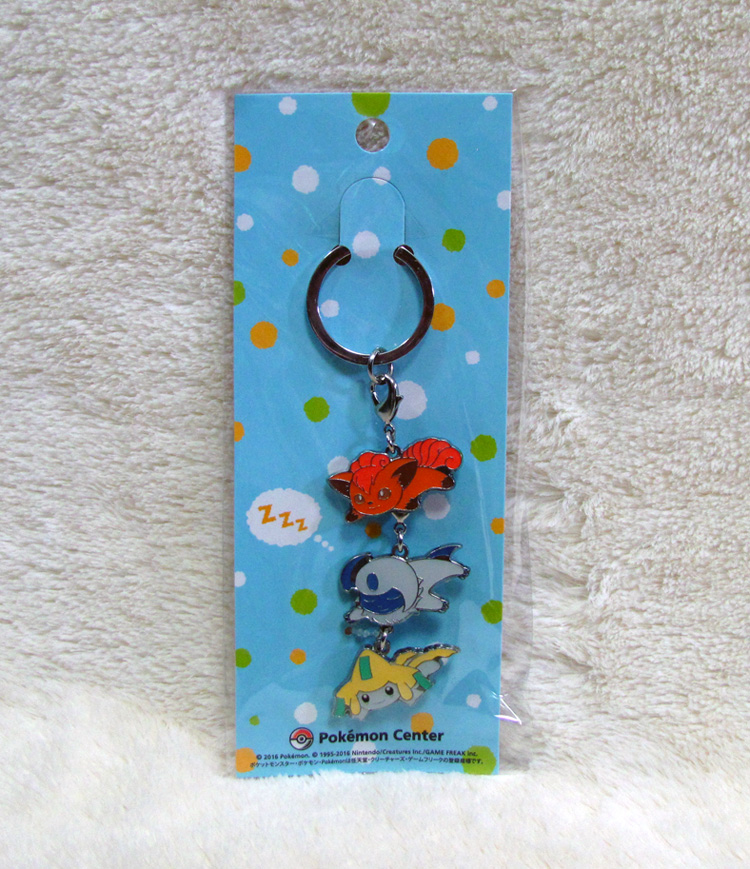 Pokémon Center Kuttari 3-Pokémon Keyholder Absol, Vulpix, Jirachi
ポケモンセンター くったり3連キーホルダー アブソル、ロコン、ジラーチ
Pokémon Center 2016

Interestingly, this keychain actually came out prior to Absol's Kuttari plush! I really love how it also includes another one of my favorite Pokémon, Vulpix.