Suicune Merchandise
スイクン商品


Items that aren't a part of a set also featuring Entei and Raikou!



Suicune Plush / スイクンぬいぐるみ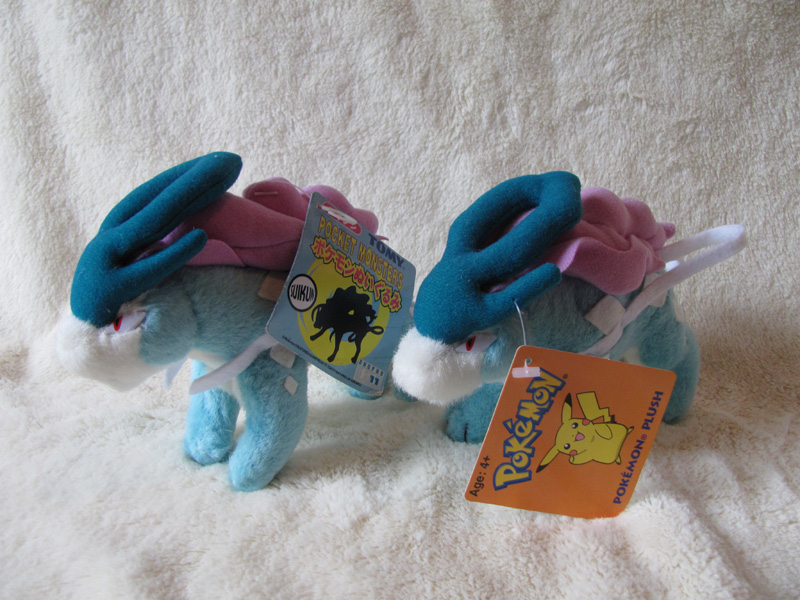 Pokémon Plush Suicune (Japan, American versions)
ポケモンぬいぐるみ スイクン 「日本版、アメリカ版」
Pokémon Center/Tomy 2001

A very adorable Suicune plush with soft fuzzy fur, plastic eyes, a stuffed crest, and a layered mane. Like other Pokémon Center plush of the time, including Paki Paki Entei, there was a Japanese and an American release. I first bought the American version, and I now own the Japanese version as well, cool tag art and all! However, the downside to this plush is the glue in the diamonds tends to yellow over time.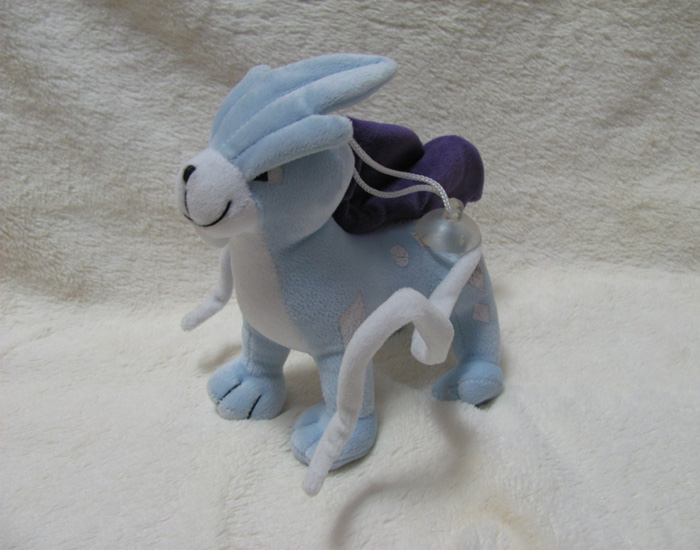 Taiwanese Suicune Mirage Plush
It is a mystery~

A "mirage" plush, as the nickname implies, are very interesting and very mysterious. They toe the line between official and unofficial; they aren't bootleg since no official counterpart exists, but they aren't from a licensed company either. A well-known example of mirage plushes are Gin of Sunyshore's series of German Raichu plush, which seem to have been made by a company who didn't have the license to Pokémon but made them as festival prizes. Unfortunately, all I know about this Mirage Suicune is that it was made in Taiwan, but perhaps half the fun is in the mystery. It is a very well-made plush however, with details not even seen in any official Suicune plush (such as wired ribbons and a suction cup hanger). I also really love how the color scheme happens to match Shiny Suicune's colors. It seems to be an especially fitting touch to such a mysterious plush.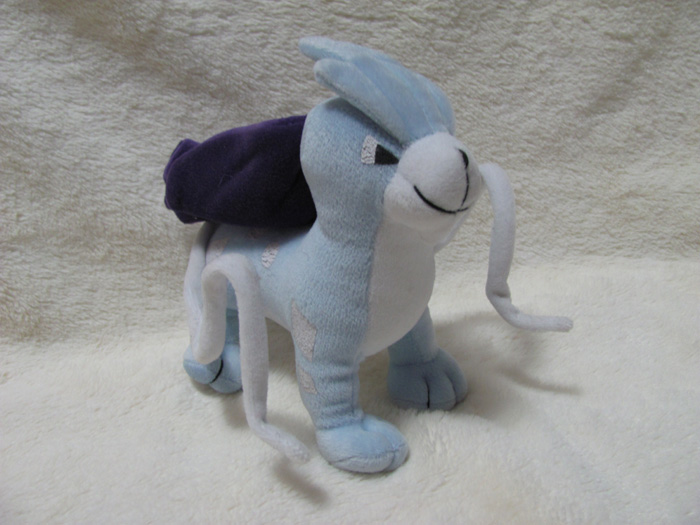 Suicune Figures/Keychains
スイクンフィギュア/キーホルダー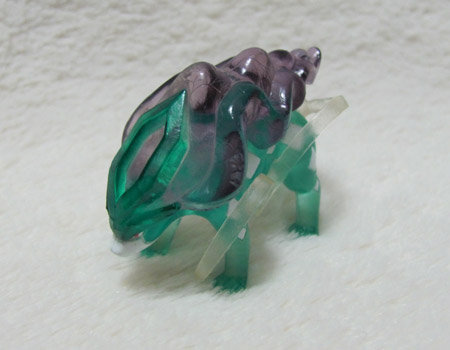 Pokémon Monster Collection Bag Limited Clear Figure Suicune
ポケモン モンスターコレクションバッグ限定 クリアフィギュア スイクン
Tomy 2001?

This rare clear version of the Suicune MC figure only came as an extra in a Monster Collection Collection Bag, or storage case. It is well worth the search for one, however, as it is easily one of the most gorgeous Suicune figures out there, especially if the light hits it right.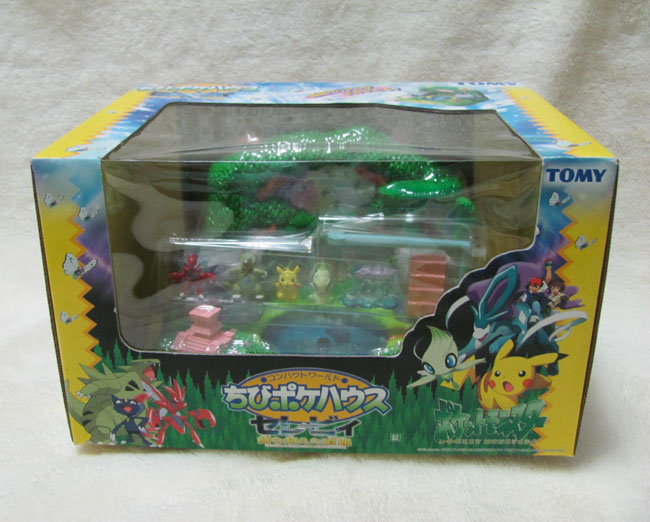 Celebi: A Timeless Encounter Chibi PokéHouse (Playset)
セレビィ 時を越えた遭遇 ちびポケハウス
Tomy 2001

This is a gorgeously-detailed playset that includes Celebi on a swinging arm, a background that rotates between various scenes including Golem Celebi and the many timetravelling Celebi, various moving parts, and best of all, Suicune that moves across the lake with a magnet.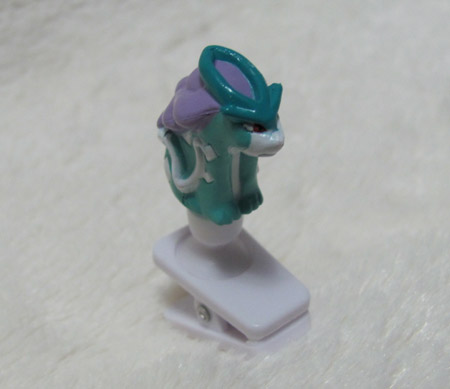 Pokémon YuraYura Clip Suicune
ポケモン ゆらゆらクリップ スイクン
Banpresto 2001

A very rare amusement prize from 2001, the figure on the tiny clip bounces slightly when flicked or moved. As far as I could find, this was the only YuraYura Clip set.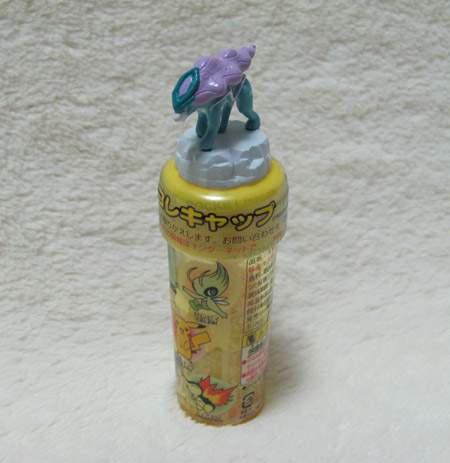 PokéColle Cap 1 Suicune
ポケコレキャップ1 スイクン
Tomy 2001

From the very first PokéColle Cap series, a series that still runs to this day. It is very rare to find the caps in this series unopened and with container from older series, and it can even be hard to find newer releases. This Suicune is absolutely pristine, and I feel very fortunate to have it in my collection.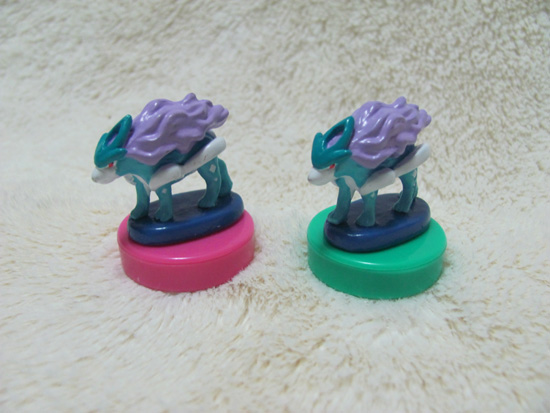 Pocket Monsters Character Stamp 9 Suicune Pink, Green Versions
ポケットモンスター キャラクタースタンプ9 スイクン ピンク、緑バージョン
Kyodo 2000?

An extremely rare stamp figure that comes in not one, but three colors: pink, blue, and green. This is yet another series where Johto Pokémon are much harder to find than Kanto Pokémon, and Suicune is certainly no exception. This stamp series is commonly known among collectors as "Chibi Stamps", and is set apart from Stamp 151 by being self-inked with a screw-on cap. Certain stamps also stand on a sort of "diorama". The molds used for this series seem identical to another old Kyodo series, In-Case Collection. It's also theorized that Entei and Raikou also got a stamp in this series, but it's yet to be seen.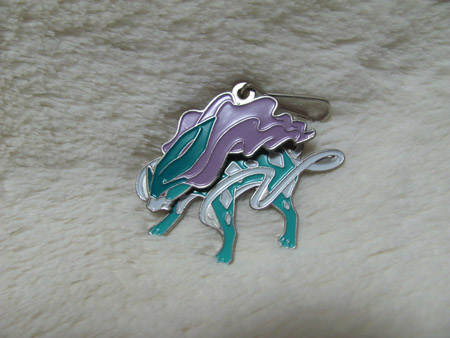 Pokémon Furifuri Furiiku Suicune
ポケモン フリフリフリーク スイクン
Tomy 2001

A Suicune I previously had no idea existed. This is a unique metal clip, in that the head and mane are on a separate piece of metal and bounces when moved. Like the Monster Ball Badges, it is enameled metal.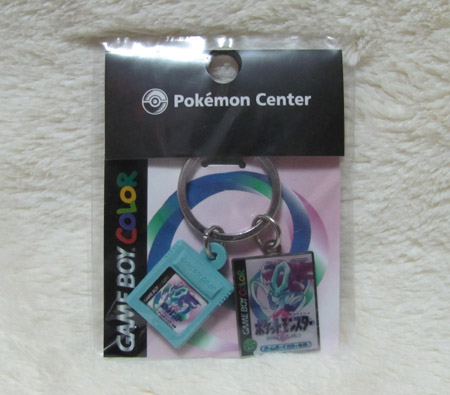 Pokémon Center Game Boy Color Pokémon Crystal Keychain
ポケモンセンター ゲームボーイカラー ポケモンクリスタルキーホルダー
Pokémon Center 2002

This is a keyring that was released in the Pokémon Center to commemorate Pokémon Crystal. This was possibly released alongside the game or the Suicune Blue Game Boy Advance. There is also a Pokémon Crystal pin, and other Pokémon games that had keyrings and pins made.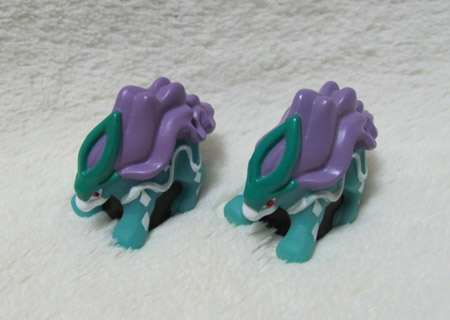 Pokémon V-Trainer Suicune 1.0 and 2.0
Hasbro 2001?/2002

Sort of like MonColle Plus nearly ten years later, V-Trainers were figures with chips that connected to a V-Trainer system that can be used to battle different Gym Leader or trainer cartridges, or another person, and gain levels. Suicune had two releases; the first release and a second release for the Advanced Generation system (2.0). Raikou also got a V-Trainer, and can be seen on its individual merchandise page.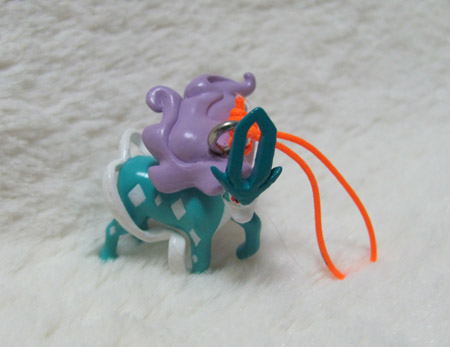 Pokémon Miniswing Collection Suicune Strap
Bandai France 2006

A cute European-exclusive strap with an exclusive mold.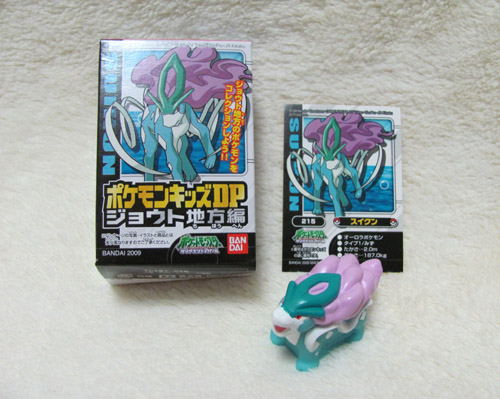 Pokémon Kids DP Johto Chihouhen 1 Suicune
ポケモンキッズDP ジョウト地方編1 スイクン
Bandai 2009

Only the second Suicune Kid released, and the first new one in nearly ten years. It's also a part of the first Kids set commemorating the release of HeartGold/SoulSilver and the ten year anniversary of the second generation of Pokémon.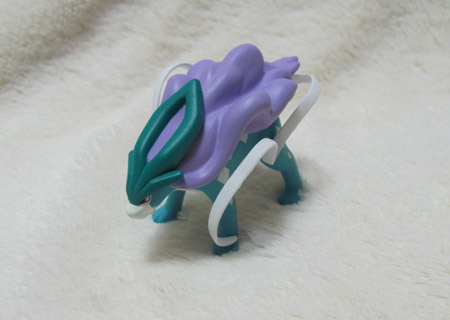 Pocket Monsters Diamond & Pearl Collectible Figure ~Water Type~ Suicune
ポケットモンスター ダイヤモンド&パール コレクタブルフィギュア~みずタイプ~ スイクン
Banpresto 2010

Somehow harder to find than its Entei counterpart in the previous set, this good-sized Suicune figure was an amusement prize and was released with other Water types in a themed set. A part of the wave of new Johto Pokémon items released in commemoration of HeartGold and SoulSilver.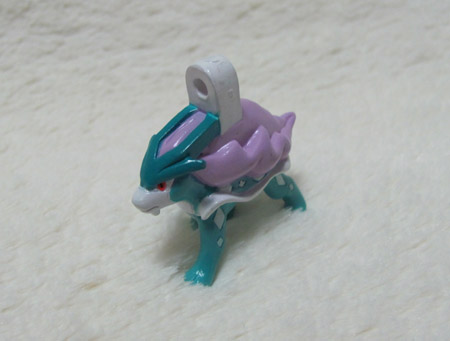 Bikkura Tamago Pocket Monsters Diamond・Pearl ~ Ruler of Illusion: Zoroark Suicune
びっくらたまご ポケットモンスターダイヤモンド・パール~幻影の覇者ゾロアーク スイクン
Bandai Japan 2010

From the same series as the Bikkura Tamago Absol, this Suicune came in a soap Pokéball that dissolves in hot bath water. The difference between the new series and the older AG series of Bikkura Tamago was the addition of a loop to the figures (possibly to turn into keychains), and the figures no longer being weighted. I also affectionately call this figure "Walky Suicune" because of how it resembles the art in the recent "Walky" Pokémon Center promotions based on the overworld following sprites on HeartGold/SoulSilver.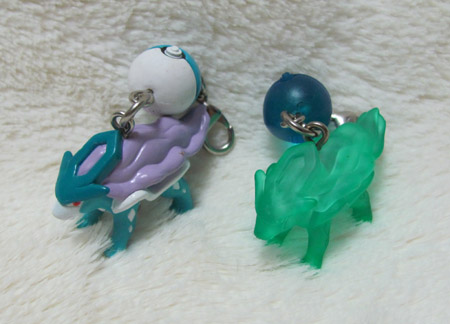 Fastening Pokémon 2010 Movie Suicune Normal & Clear Versions
つなげてポケモン2010MOVIE スイクン ノーマル&クリアバージョン
Bandai 2010

These adorable gashapon keychains were released to commemorate the 13th Pokémon movie. Coming in normal full-colored and a clear aqua green, these keychains have clips and loops that allow them to be vertically hooked to one another.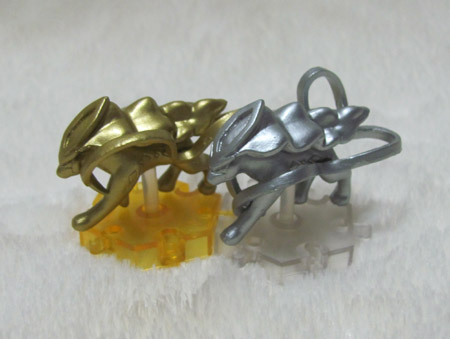 Pokémon Get Collection Ho-Oh & Lugia Suicune Gold, Silver Versions
Bandai Europe 2010

With the European rerelease of Chou Get Taizen Zenkoku set 06 came a new addition: exclusive special gold and silver versions of the figures in the set. However, these figures are currently rather hard to find outside of a full set, which is rather expensive due to the sheer size. If there's any you'd want, it's recommended you go in with others on a full set as soon as possible. It's worth it though; these are beautiful figures.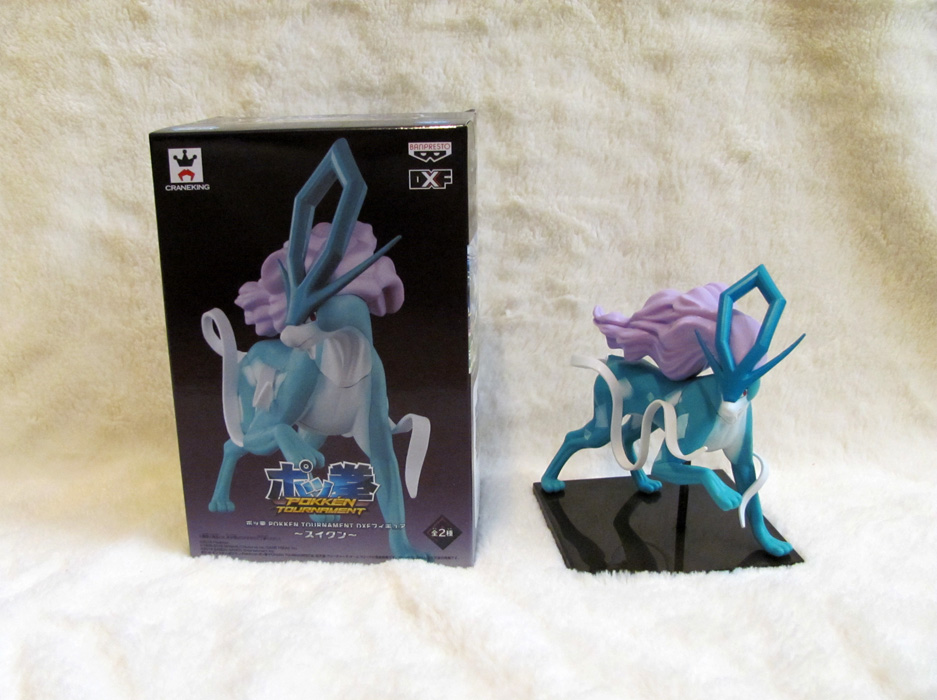 Pokkén Tournament DXF Figure ~Suicune~
ポッ拳 POKKÉN TOURNAMENT DXFフィギュア~スイクン~
Banpresto 2016
(Missing B Player color variant.)




Suicune Miscellaneous
スイクンその他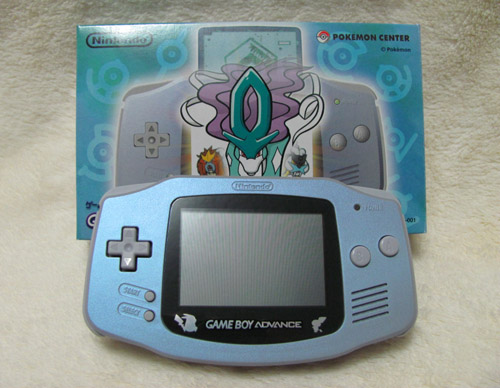 Pokémon Center Suicune Blue Game Boy Advance
ポケモンセンター スイクンブルー ゲームボーイアドバンス
Nintendo/Pokémon Center 2001

An absolutely gorgeous promotional Game Boy Advance. While it doesn't have a Suicune on the GBA itself, it is a very beautiful "Suicune Blue" color that changes slightly depending on light. Photos don't do it justice.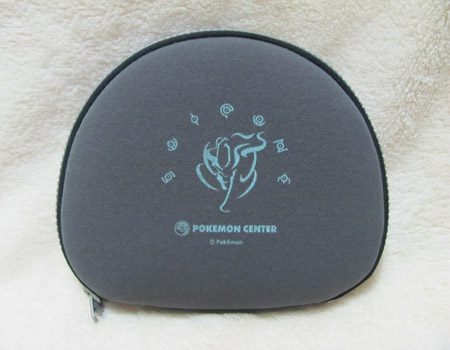 Pokémon Center Game Boy Advance Suicune Case
ポケモンセンター ゲームボーイアドバンス スイクン ケース
Nintendo/Pokémon Center 2001?

A matching soft case for the Suicune Blue Game Boy Advance. Interestingly, this soft case had two variety of colors: the design in white, and the design in blue, as seen in mine.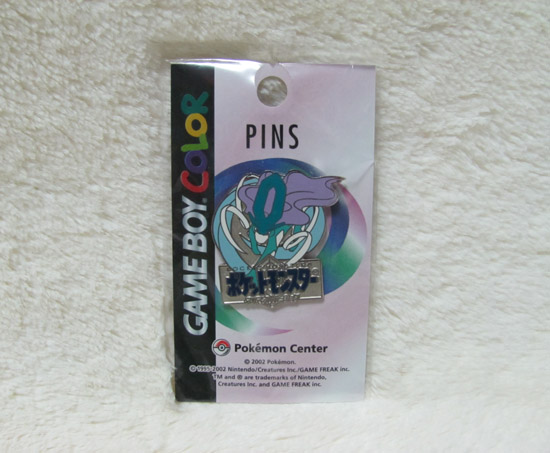 Pokémon Center Game Boy Color Pocket Monsters Crystal Pin
ポケモンセンター ゲームボーイカラー ポケットモンスタークリスタル ピンバッジ
Pokémon Center 2002

Matching the keychain, this is a gorgeous enameled metal pin commemorating the Pokémon Crystal game. This was possibly released alongside the game or the Suicune Blue Game Boy Advance.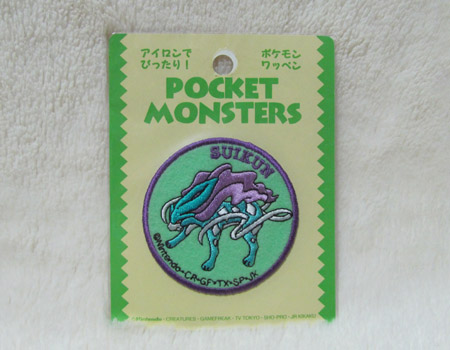 Pokémon Wappen Suicune
ポケモン ワッペン スイクン
?? 2001?

A beautifully-detailed embroidered iron-patch of Suicune.