Legendary Beast Trio Plush
伝説の三匹ぬいぐるみ


Perhaps my favorite pieces of my collection are the plushes. In fact, three of my pride and joys are plushes; Giant Raikou, Giant Entei, and Giant Suicune. Note that these are all general release and amusement prize plush; for limited plush, please see Promotional Items and Shiny Merchandise.



~ * ~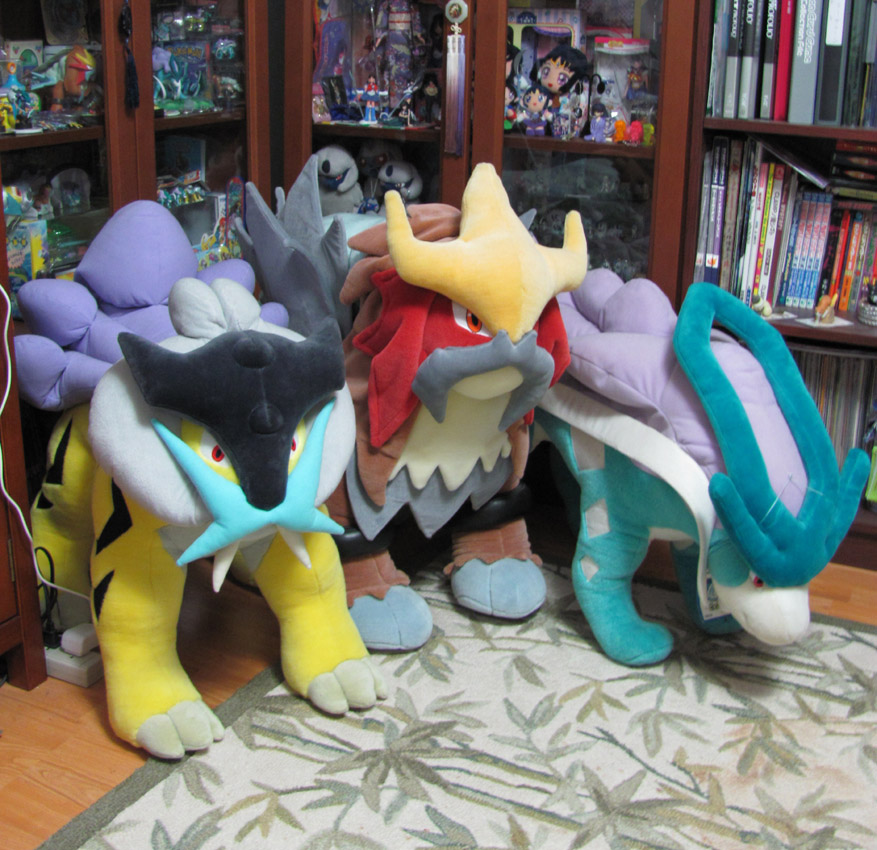 Pokémon Center '01 End of Year Special Commemeration Big Size Plush Raikou, Entei, Suicune
ポケモンセンター '01年末特番記念商品 ビッグサイズぬいぐるみ
ライコウ、エンテイ、スイクン 
Pokémon Center/Tomy 2001

The crown jewels of my collection, and three of the items that hold the most memories. Entei was bought from the Pokémon Center New York website way back in 2001 as a Christmas present. Suicune was a very lucky auction win back in 2007, although sadly its legs aren't exactly in the best shape. However, with a little therapy, I was able to help it stand much better on its own. And after searching for so long, I finally have the Raikou to complete my trio, exactly ten years since I obtained Entei and began my search for his companions.

These plush are highly sought and very rare, among the biggest and best Pokémon plush ever made. Part of their rarity comes from their brief run and limited numbers in the Pokémon Centers, both Japanese and New York. Somehow Raikou is the rarest of the trio, possibly having less than 100 of the plush made. I consider these plush to be the Holy Grails of beast items.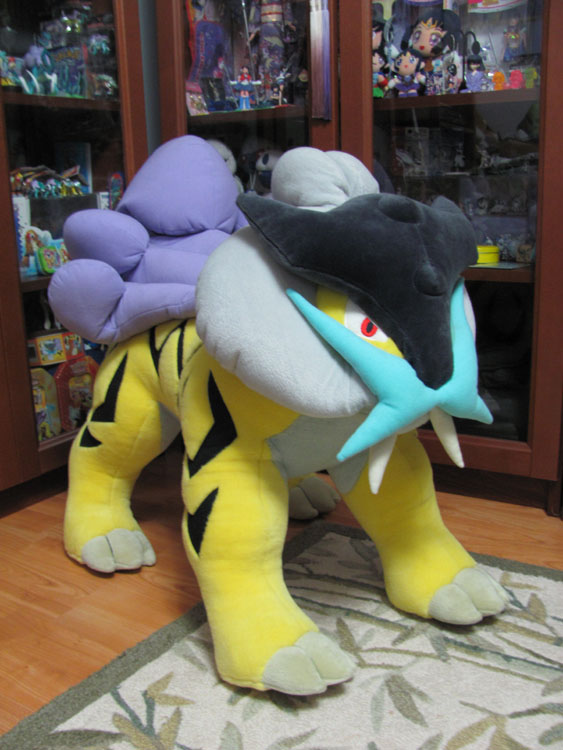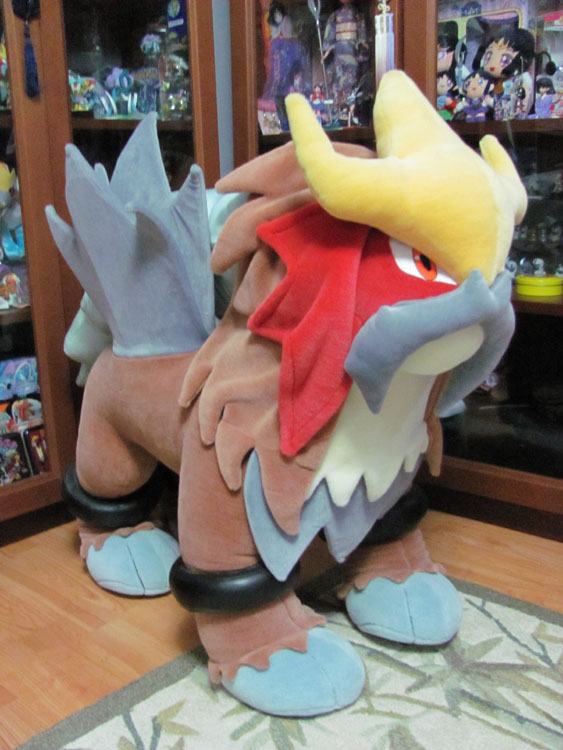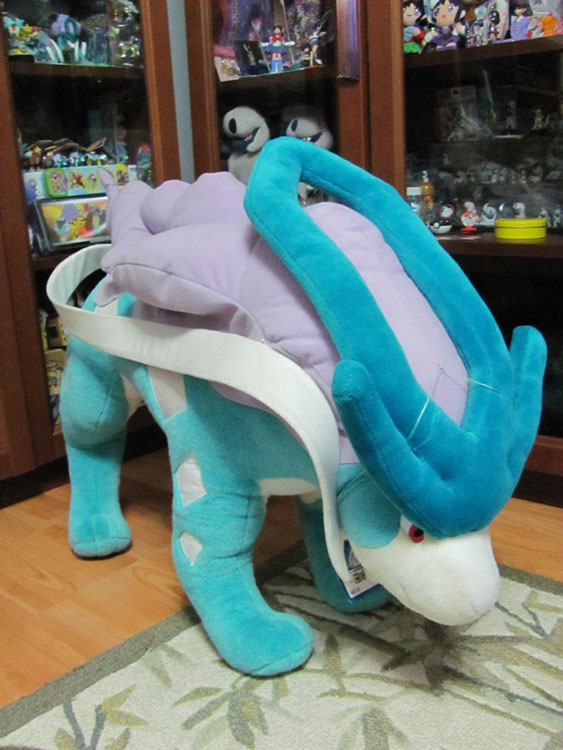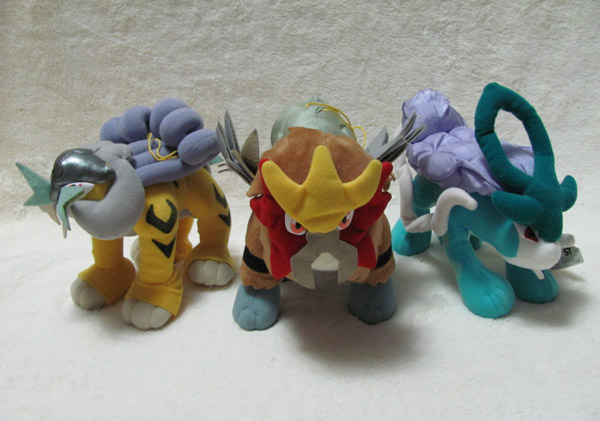 Banpresto Suicune, Entei, Raikou UFO Catcher Plush
バンプレスト スイクン、エンテイ、ライコウ ぬいぐるみ
Banpresto 2000

The very first, and for ten years only UFO Catcher prize beast plush. Sadly, these plush tend to age badly, and can be difficult to find in decent condition. However, if found, they're wonderful pieces for any beast lovers' collection, with plastic eyes, taffeta manes for Suicune and Entei, and wonderful non-chibified patterns.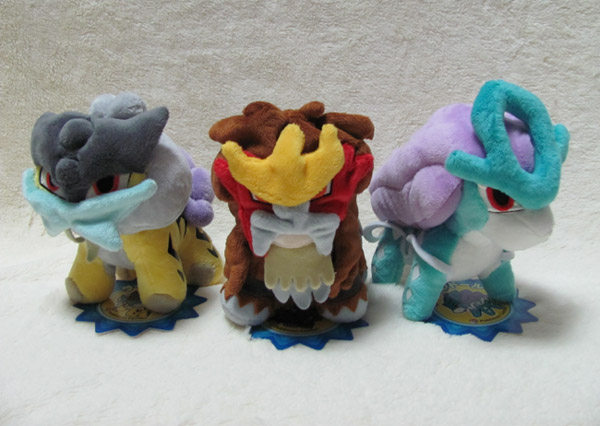 Pokémon Center Suicune, Entei, Raikou Pokédolls
ポケモンセンター スイクン、エンテイ、ライコウ ポケドール
Pokémon Center 2009

The first and most unexpected new beast plush for commemoration of the release of the Gold and Silver remakes, HeartGold and SoulSilver! Interestingly, they are even the very first chibified beast plush. As with all Pokédolls for the DP era on, they also feature adorable and unique Pokédoll art on their tags.

I recommend also checking out the super-limited, and first ever of their kind shiny beast trio Pokédolls, on the Shiny Merchandise page!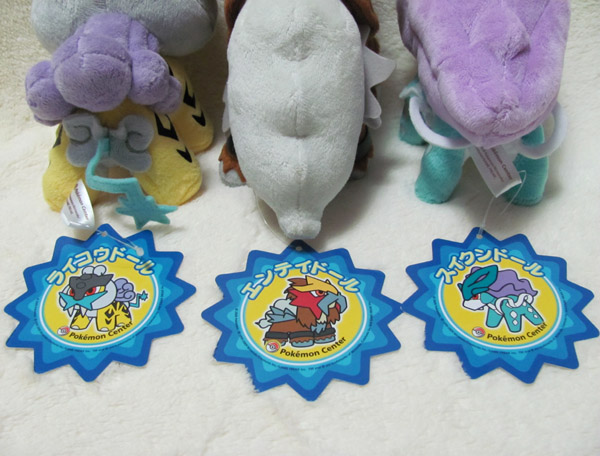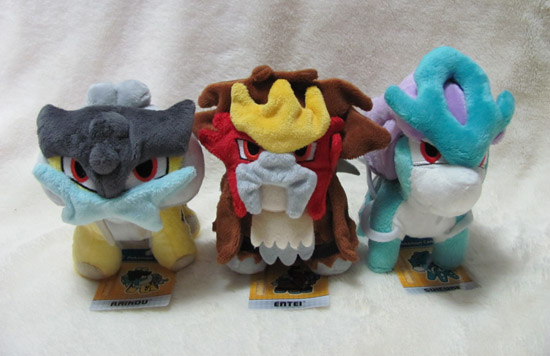 Pokémon Center Suicune, Entei, Raikou Pokédolls (US Version)
Pokémon Center International 2010

Cousins to their Japanese counterparts, these were among a very cool Pokémon Center Vending Machine campaign that started in Washington state in the US. Finally shedding the boring flag-style tags that US-release Pokédolls continued to have well after Japan switched to the new-style tags, these tags feature the new Pokédoll art the Japanese tags have. The dolls themselves also seem to resemble the Shiny Pokédolls in pattern more than the Japanese release, possibly because these came after. Well worth picking up if you're a beast doll completionist!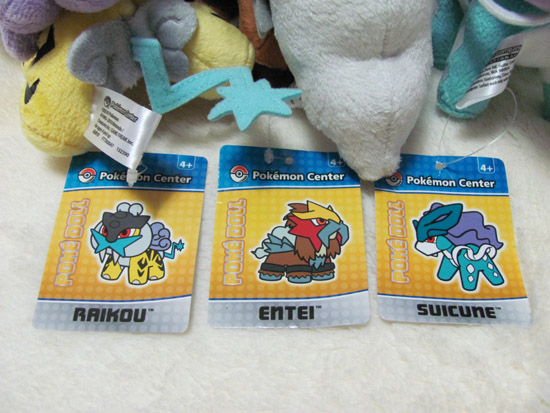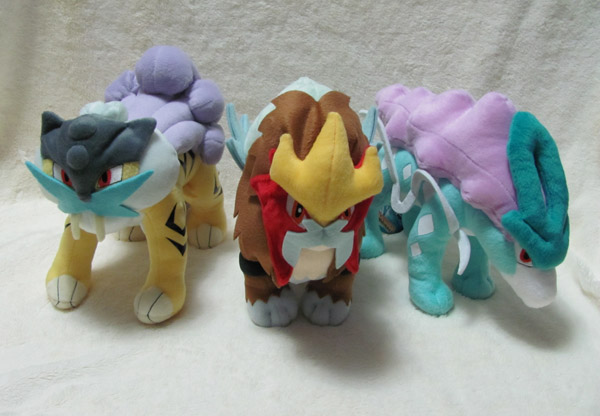 Pokémon Plush DP Entei, Suicune, Raikou
ポケモンぬいぐるみDP エンテイ・スイクン・ライコウ
Takara Tomy 2009

Perhaps the best of the new beast plush, these larger plush are like scaled down versions of the Big Size beast trio plush, which were also made by Tomy! These are the largest non-limited beast plush to date; the Big Size plush and Entei and Suicune's Ichiban-Kuji plush are the only ones bigger.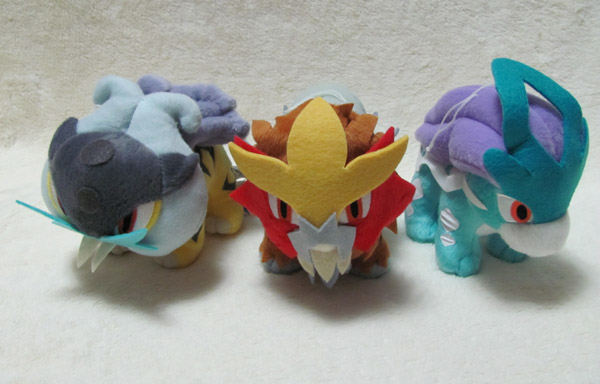 Pocket Monsters Diamond & Pearl Korottomanmaru Plush~Johto Region~ Raikou, Entei, Suicune
ポケットモンスター ダイヤモンド&パール コロっとまんまるぬいぐるみ~ジョウト地方~ ライコウ、エンテイ、スイクン
Banpresto 2010

The first new UFO Catcher prize plush in ten years! These guys are absolutely adorable and better made than the old UFOs in my opinion. These plush also got a rerelease in commemoration of the 13th Pokémon movie, Ruler of Illusion: Zoroark.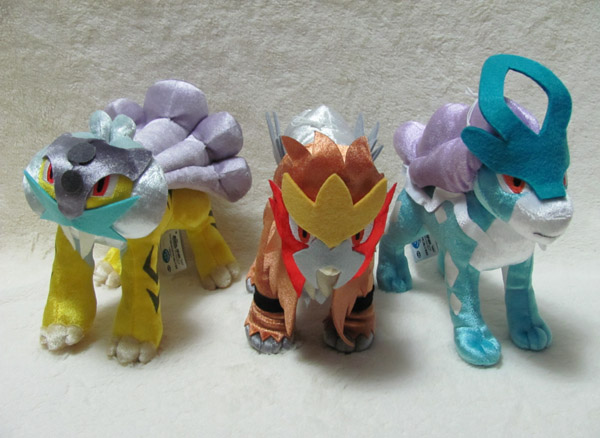 Large Size KiraKira Pokémon Plush ~2010~ Raikou, Entei, Suicune
Lサイズきらきらポケモンぬいぐるみ~2010~ ライコウ、エンテイ、スイクン
Banpresto 2010

For commemoration of the 13th Pokémon movie, Banpresto released these guys to only be winnable in machines in Namco gaming centers in Japan. They're also unique in being made with a shimmery fabric, which is slightly coarser but looks absolutely stunning in person. Photos do not do them justice.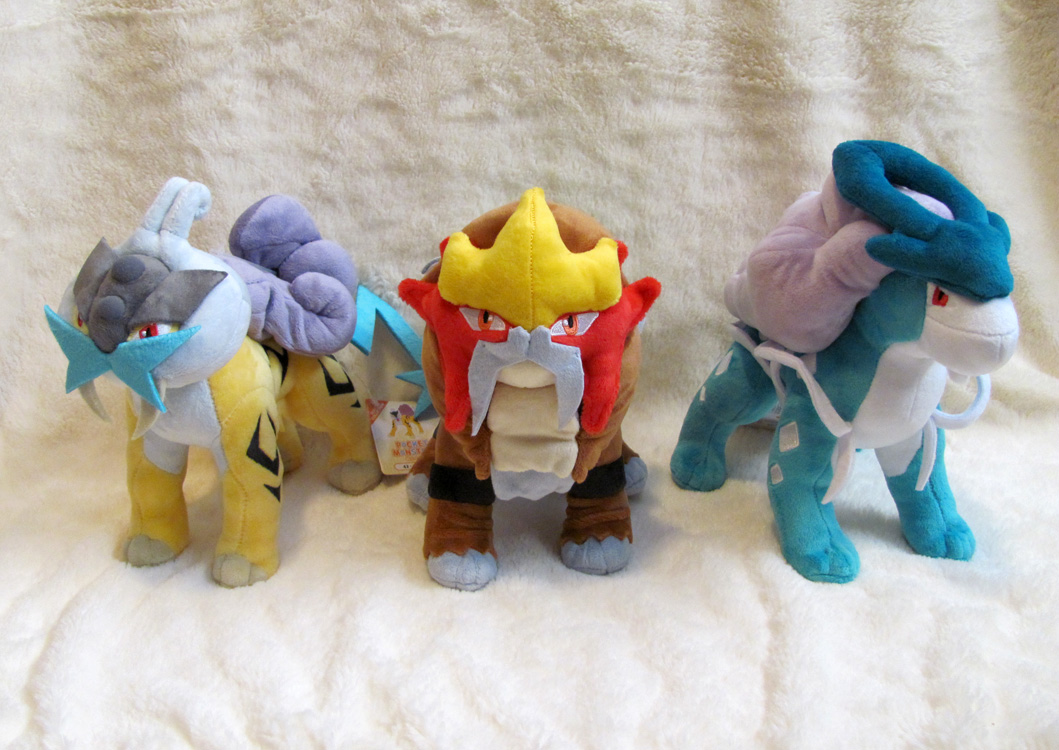 Pocket Monsters All Star Collection Plush PP62 Raikou (S), P63 Entei (S), PP64 Suicune (S)
ポケットモンスター ALL STAR COLLECTION ぬいぐるみ PP62 ライコウ (S)、PP63 エンテイ (S)、PP64 スイクン (S)
Sanei Boeki 2017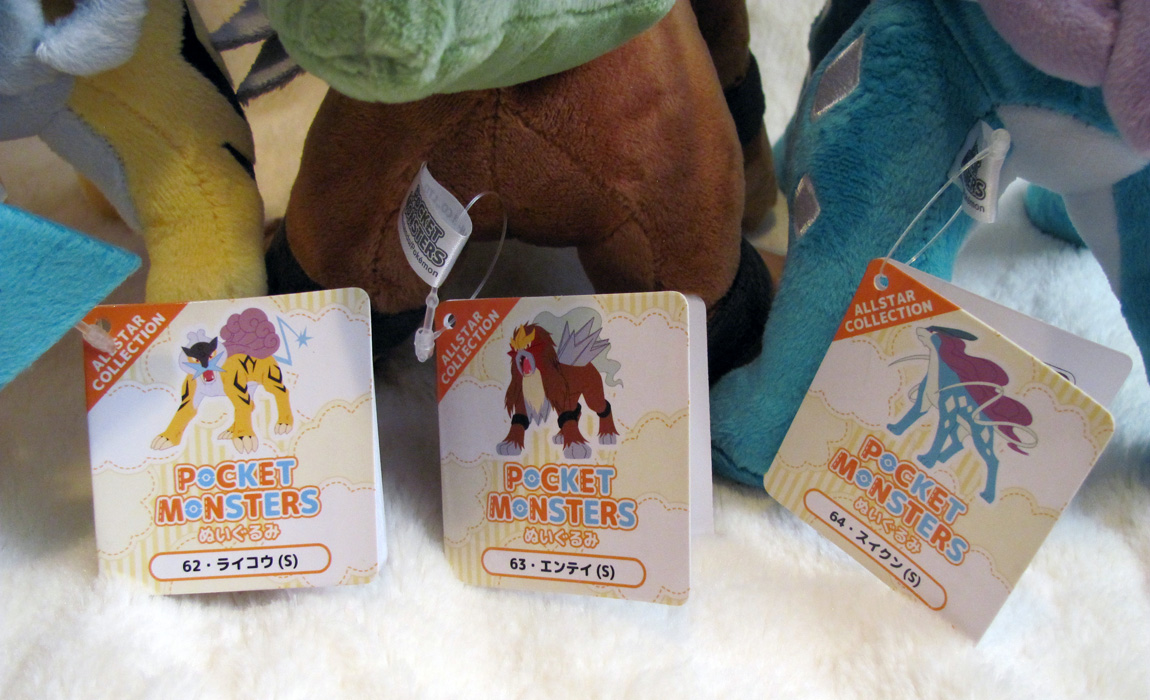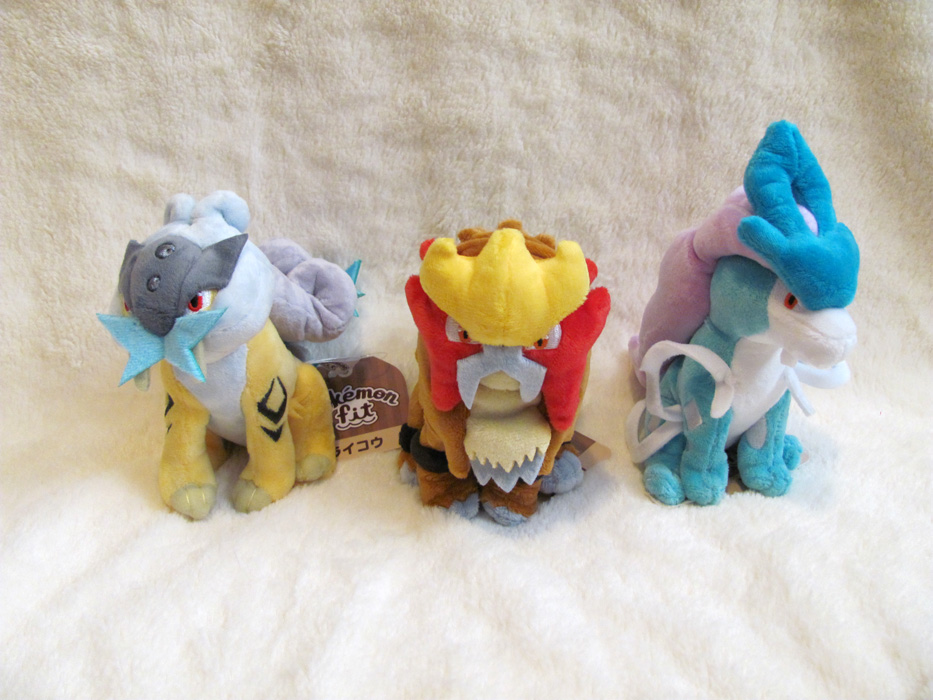 Pokémon fit Series 3 Plush Raikou, Entei, Suicune
Pokémon fit 第3弾ぬいぐるみ ライコウ、エンテイ、スイクン
Pokémon Center 2019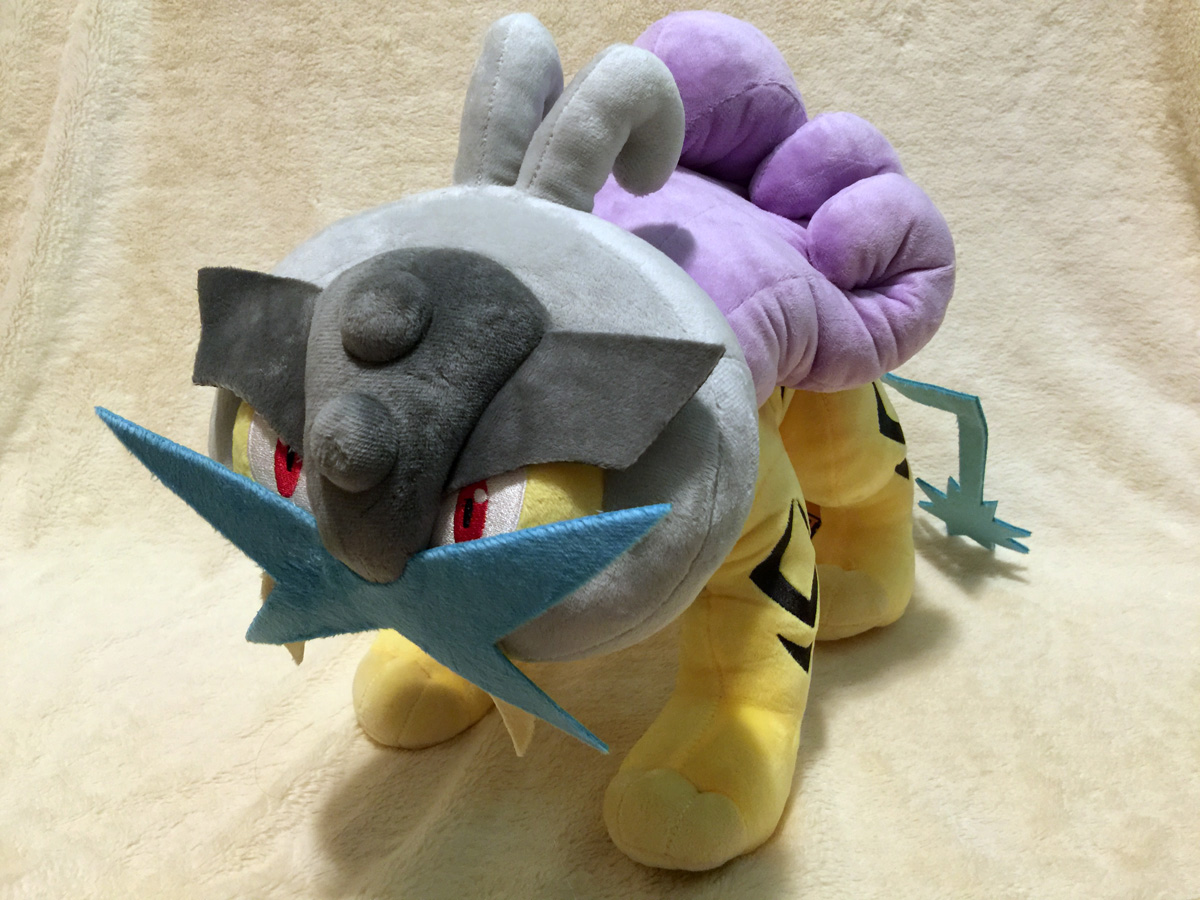 Christmas Pokemon Plush Pre-Order Event Raikou, Entei, Suicune
聖誕節寶可夢娃娃預購活動 雷公, 炎帝, 水君
Sozostar Plush 2021